Inv #: 77040
---
1 PREOWNED ACRO TECH AIR/HYDRAULIC PRESS ROLL MODEL 1824
---

---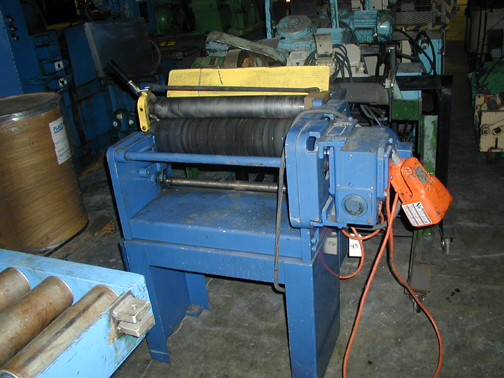 ---
SPECIFICATIONS
WORKING LENGTH --------------------- 24" X 18 GAUGE
ROLLING SPEED ---------------------- 16 FPM
STEEL ROLL DIAMETER (1) ------------ 3-1/2"
K-PRENE ROLL DIAMETER (1) ---------- 6"
VOLTAGE ---------------------------- 115/60/1
MOTOR ------------------------------ 1 HP
AMPERAGE --------------------------- 12.8
WEIGHT ----------------------------- 750 LBS
DIMENSIONS ------------------------- 39.25"W X 50"H X 42"F-B
---
FEATURES
- ROLLS PERFORATED AND OTHER DIFFICULT MATERIALS WITHOUT 
FLUTING OR KINKING.
- ROLLS PREFINISHED MATERIALS WITHOUT DAMAGING PARTS.
- NO PREFORMING REQUIRED.
---
OPTIONAL FEATURES
- SLIP ON TUBES, FOR LARGER DIAMETER PIECES
- SMALL SHAFT ASSEMBLIES, FOR SMALLER DIAMETER PIECES
- PART EJECTORS, FOR INCREASED PRODUCTION
---
INVESTMENT

---
TERMS
CASH BEFORE DELIVERY
---
DELIVERY
IMMEDIATE - SUBJECT TO PRIOR SALE
---
LOADING
F.O.B. EAST AMES, IA
---
LOCATION
SMC-EAST
---
Machine specifications subject to verification.