Inv #: 82163
---
1 - PREOWNED MCDONOUGH STERLING PRECISION DRILL BIT SHARPENER
---

---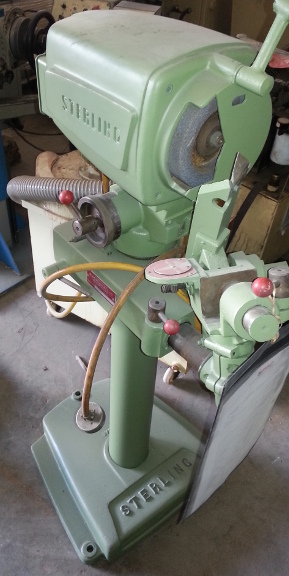 ---
SPECIFICATIONS
Capacity: 
Sharpens 1/8" to 2-1/2" diameter drills.
FLOOR SPACE ------------------------ 24" X 48"
HEIGHT ----------------------------- 50"
VOLTS--------------------------------230/460V 3PH
YEAR---------------------------------1975
---
FEATURES
Versatility: 
Sharpens 2, 3, or 4 flute drills with variable included 
angles of 90º, 100º, 110º, 118º, 130º, and 140º. 

Precision: 
For accurately centered and free cutting drills in seconds.

Simplicity: 
NO chucks, NO collets, and NO wrenches to bother with when 
sharpening different diameter drills. The same drill 
holding unit handles all drills from 1/8" to 2-1/2" in 
diameter.

Unmatched Capacity: 
The STERLING Drill Grinder is the only grinder capable of 
sharpening drills from 1/8" to 2-1/2" in diameter. 
It will accommodate any standard catalog drill 
within this size range without the hassle of using chucks, 
collets or wrenches.
---
NOTE
SPECIFICATIONS SUBJECT TO VERIFICATION
---
INVESTMENT

---
TERMS
CASH WITH ORDER
---
DELIVERY
IMMEDIATE, SUBJECT TO PRIOR SALE
---
LOADING
AMES
---
LOCATION
SMC-K
---
Machine specifications subject to verification.