Inv #: 84365
---
1 - PREOWNED BAILEIGH 5'X10' CNC PLASMA CUTTING TABLE DOWNDRAFT WITH AUTOMATIC TORCH HEIGHT CONTROL THERMO DYNAMICS A80, MODEL #: PT-510HD-A, S/N: A140903, YEAR: 09/2014
---

---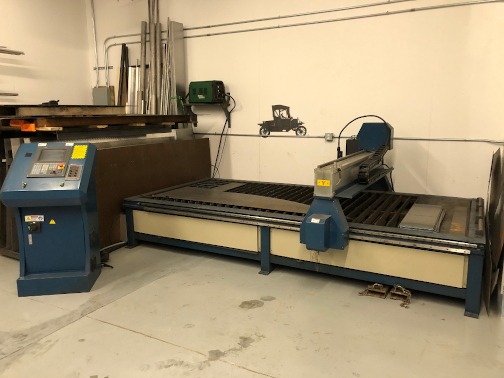 ---
SPECIFICATIONS
BAILEIGH 5'X10' CNC PLASMA CUTTING TABLE DOWNDRAFT.  
AUTOMATIC TORCH HEIGHT CONTROL.
THERMO DYNAMICS A80.
-VOLTAGE: 220 VOLT 1/3 PHASE, 50-60HZ
-PRODUCTION PIERCING AND CUTTING CAP. 1/2"MILD STEEL.
-MAXIMUM PIERCING AND CUTTING CAPACITY 3/4"
-MAXIMUM EDGE START 1-1/4"
MODEL #: PT-510HD-A.
TRAVEL SPEED 315 INCHES PER MINUTE.
TABLE DIMENSIONS 60" X 140".
TABLE LOAD CAPACITY 1" MILD STEEL.
DRIVE SERVO MOTOR.
POWER 220V / 1-PHASE.
SHIPPING WEIGHT 3380 LBS.
SHIPPING DIMENSIONS 160" X 102" X 68".
---
FEATURES
RUNS ON 220-VOLT SINGLE-PHASE POWER. CONTROL THE X, Y, AND Z 
AXIS MOVEMENT FROM THE STURDY PODIUM WITH LARGE CONSOLE 
SCREEN AND KEYPAD.

HIGH GANTRY (ONE OF THE HIGHEST IN THE INDUSTRY) LETS YOU 
CLEARLY SEE ITS MOVEMENT FOR BETTER ADJUSTMENT AND CONTROL.

OUR DESIGN REDUCES THE RISK OF DAMAGING THE TABLE WHILE 
LOADING OR PINCHING YOUR FORKLIFT—UNLIKE COMPETING PLASMA 
TABLES WITH RECESSED WORK AREAS.

GANTRY CAN MOVE OUT OF THE WAY FOR A FULL 10-FOOT SHEET 
DURING LOADING, MINIMIZING THE CHANCE OF MACHINE DAMAGE.
---
NOTE
SPECIFICATIONS SUBJECT TO VERIFICATION
---
INVESTMENT

---
TERMS
CASH WITH ORDER
---
DELIVERY
IMMEDIATE, SUBJECT TO PRIOR SALE
---
LOCATION
S
---
Machine specifications subject to verification.